Passion for the industry, equipment, and watching people have a good time is what drives me and keeps me at it year after year. I am a full time DJ playing mostly for weddings on Saturdays but also for many other types of functions including birthdays and corporate events. One has to be very in touch with the ever evolving trends in both music and equipment.

And how things have evolved: from the cumbersome rigs, speakers, limited access to music, basic lighting, to present where the digital era has totally transformed the industry with PC based controllers, smaller more powerful speakers, and absolutely awesome lighting.
My philosophy and approach to each function is totally different – obviously bearing in mind the clients brief of likes and dislikes, I ultimately base my music choice on the night of the function from interaction with the crowd and reading crowd responses to music being played and following patterns determined by crowd response and NOT necessarily personal preferences or . My aim is to take the crowd through different types, ages and genre of music throughout the night without alienating people for too long by sticking to certain genres for too long, thereby ensuring everybody has fun . This I believe is key for the overall success of any party – PLAY WHAT PEOPLE WANT TO HEAR.
I enjoy and encourage guests to make requests on the night as this shows they are interested and also enables good interaction, building on the elements that will ultimately lead to the success of your function. My ultimate objection and desire is to surpass yours and your guests expectations so that everyone leaves exhausted from dancing all night. I believe I achieve this in a number of ways :
Firstly by good interaction with the crowd and playing music THEY want to hear
My sound system is totally unique in the industry and am currently the only DJ In SA using this system. It is an FBT line array system in white. What is unique about this system is the amazing quality of sound and it's size makes it very indiscreet. The fact that the entire system is in white also allows it to blend in very well at majority of venues, something previously only achieved by draping the speakers. The array design also ensures unbelievable sound projection not normally achieved by normal speakers. The advantage of this is that great sound coverage is achieved without having to blow everybody away with volume and it makes for pleasant listening and is not overbearing. I regularly use "fill" speakers in venues where sound is challenging to ensure that everyone can hear at a decent level without the primary sound system having to be too loud.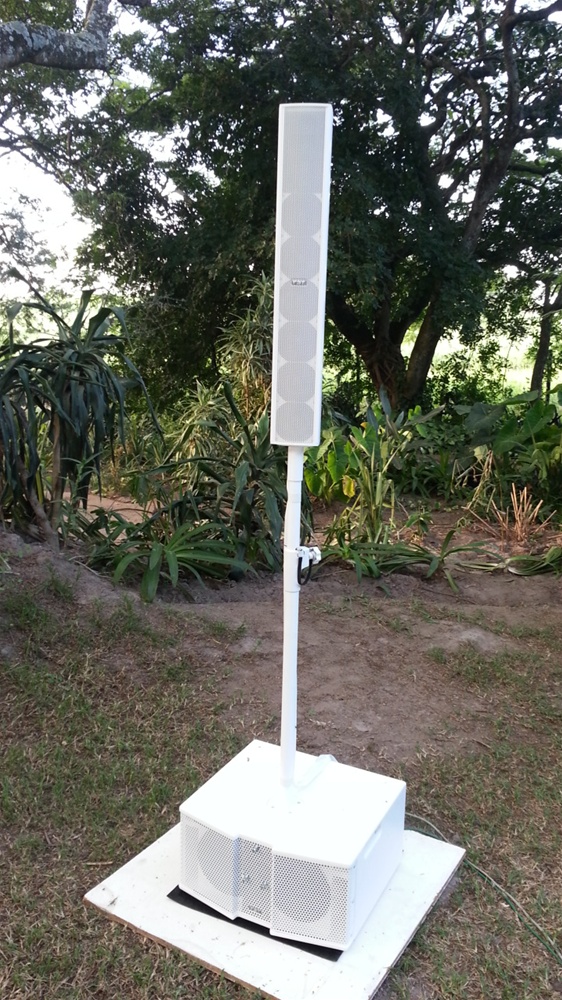 For lighting I use a fully intelligent computerised moving head lighting rig that can be set for ambient mood lighting in early parts of the evening, then as the party progresses to more party lighting. This can also be used to highlight speeches, cake cutting and other important moments where spot lighting is needed (provided correct positioning of the lighting rig is achieved) More lighting in the form of additional moving head washes and LED parcans are also available should additional up-lighting be needed. In some cases I make use of a hazer to enhance lighting effects. Unlike a smoke machine that tends to choke people, this emits a very fine mist that is sufficient to pick up the beams without bothering people in any way.
My services also extend to the ceremonies for weddings, whereby a separate PA is used to the main PA for the reception to allow flow from one area to another without disruption at any time. With this system I generally supply a cordless headset microphone for the minister and an additional cordless microphone for any vows, readings etc. Additional cordless microphones are available if needed. The beauty of the headset microphone is that it ensures there is absolute clarity and quality with no dropout if the minister turns his/her head. It is also a big win for the photographs as there is no microphone stand in the photos of some very important shots.The system is also able to accommodate for other singers or musicians to simply "plug in" thereby eliminating the need for additional duplication of equipment. I also supply appropriate music for the various stages of the wedding such as Bridal entrance, signing of register, and final walk out music. Music supplied/played will be discussed with the couple to reach final choices.
Both PA systems used for the ceremony and reception are of "musician" quality and am able to connect a number of instruments should bands or singers have the need to use them by simply "plugging in" thereby eliminating the need for additional duplication of equipment. Ultimately my aim is provide a one stop professional service, thereby eliminating duplication of equipment.
Integral in the success of any wedding is communication between myself and the clients, and face to face meetings are essential in establishing a good working relationship by establishing the clients exact needs, desires, and more importantly music requirements. I generally prefer to meet clients upon booking, and then closer to the time once everything has been finalised where all the formalities and exact music requirements are discussed.
TO VIEW MORE PICTURES AND VIDEO DISPLAYING LIGHTING PLEASE USE THE FOLLOWING LINK :
https://dropbox.com/sh/ihqffbsa32dzk94/AAAT8Mt9mdMPuwHtekk9Mi-Ya